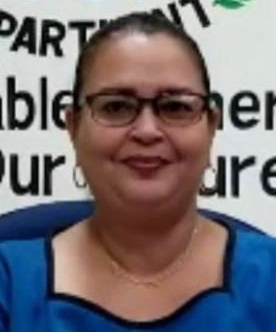 fisheries_department@fisheries.gov.bz
 Ms. Beverly Wade is the Fisheries Administrator of the Belize Fisheries Department.  She is directly responsible for a full range of domestic and international Fisheries Management, enforcement and sustainability issues in pursuit of the Belize Fisheries legislation objectives and in support of the broader government policy and the Ministry of The Blue Economy. Ms. Wade is the adviser to the Minister and Chief Executive Officer in the Ministry of The Blue Economy on all matters related to the Aquatic sector and on the Fisheries Department's activities in achieving its vision which is, a sustainable and resilient fisheries sector that effectively contributes to food security the socioeconomic development of Belize.
Ms. Wade has been involved in Fisheries Management for the last 27 years and as the Fisheries Administrator for the past 20 years, has been directly involved in the implementation of measures to facilitate the sustainable development of Belize's marine resources. She has participated in and have led multi-disciplinary teams working in a wide range of national, regional and international projects and initiative in the areas of Fisheries Management and development, Marine conservation, sustainable development, integrated coastal management and development and public policy development.  Ms. Wade has been a member of the executive committee of the Caribbean Regional Fisheries Mechanism and OSPESCA, which are the regional organizations for CARICOM and Central America charged with assisting governments in the sustainable development of their Fisheries and Aquaculture sectors.  
As the Fisheries Administrator, Ms. Wade is directly responsible for the establishment and declaration of marine reserves which currently falls under the legal mandate of the Fisheries Department.  As one of the leaders in conservation, Belize has utilized the ecosystems approach to fisheries management through key legislations establishing marine reserves as fisheries management tools which fall directly under the jurisdiction and stewardship of the Belize Fisheries Department; and management regimes for key species and coral reef.  Ms.  Wade has been the focal point for the UNESCO World Heritage sites in Belize since 2013 and works closely with her Government and stakeholder counterparts to coordinate the management and conservation of these areas.