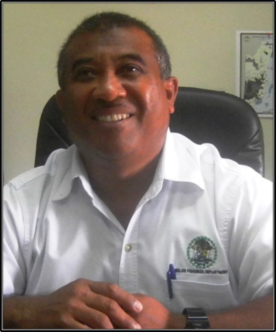 Policy and Planning Coordinator
Mr. Mauro is the Coordinator of the Policy and Planning Unit of the Belize Fisheries Department.  The Policy and Planning Unit is task with the responsibility of developing policies and aid in planning of various projects for the Fisheries Department and of mobilizing resources outside of the GOB budget allocations to support critical functions of the Department given the budget limitations. 
Mauro has a M.Sc. degree in Aquaculture from the University of Stirling in Scotland, United Kingdom. He has worked at the Fisheries Department for over 23 years and has been crucial in the development and management of the lobster and conch fisheries. He has represented the Belize Fisheries Department in an array of local, regional and international platforms.