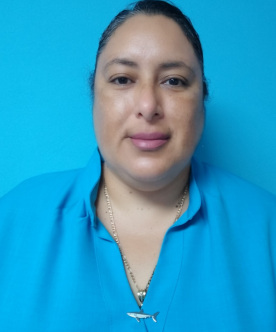 Ecosystem Management Unit Coordinator
fisheries_department@fisheries.gov.bz
Mrs. Eck-Nunez is a Fisheries Officer at the Belize Fisheries Department currently holding the post of Marine Reserves Operations Manager. She has been working with the Belize Fisheries Department for the past 18 years. Her primary responsibility is to oversee the overall management of the marine reserves, in Belize, through liaising with the managers and staff at the respective sites. She supervises the generation of management and operational plans and policies that govern the protected areas as well as ensuring the proper day to day management of all Marine Reserves including identifying potential risks and opportunities for program implementation and propose mitigation measures and strategic actions when needed.
Mrs. Eck-Nunez previously held the post of Marine Protected Areas Manager for 15 years in three different marine protected areas in Belize, including, Bacalar Chico Marine Reserve, Glover's Reef Marine Reserve and Caye Caulker Marine Reserve. She also worked along with TASTE in the Sapodilla Cayes Marine Reserve. She has a Bachelor of Science Degree in Biology with a minor in Marine Studies received from the University of Belize and has a great passion for Marine Protected Areas. Mrs. Eck-Nunez has gained a wealth of knowledge and experiences through several courses that she took interest in, these include: GIS, ocean's sustainable development, coastal fisheries management, conservation planning, marine protected areas management, fisheries enforcement, coral reef monitoring and management effectiveness.
Mrs. Eck-Nunez represents the Department on several local, regional and international committees including the National Coral Reef Monitoring Network, Belize Sea Turtle Network, Biodiversity and Protected Areas Management Program – Caribbean, Specially Protected Areas and Wildlife – RAC Technical Committee, Mesoamerican Reef Rescue Initiative Technical Committee, Post Storm Coral Response Committee, South Water Caye Advisory Committee and Glover's Reef Advisory Committee. Her technical and administrative capacity is valuable to make the needed improvements in the reserves both in relation to human resources management and improving the effectiveness and functionality of the marine reserves.